We are a group of young, passionate individuals who want to bring about a change in India. We like to challenge the status quo and tread on paths that are less travelled. In this journey, we believe in collaboration with like-minded individuals and organisations so that we are able to see the change in our own lifetime.
ADVISORS
X
KK Rajan
Chief Financial Advisor
KK Rajan has worked for large corporates such as Kirloskar and Thoughtworks as well as with start-ups. He has the experience of working with varied companies and has been able to provide sound financial guidance to all of them. KKR has a degree in commerce and law and is a professional chartered accountant. He works at Rang De as the Chief Financial Advisor, overseeing the critical functions of finance and compliance.
X
Sunil D'Monte
Chief Technical Advisor
Sunil has been working in the software industry since the late nineties, in a range of services and product-based companies. His last full-time job was in a non-profit organisation, after which there was no going back to the "corporate" sector. Today he consults (and codes!) in the non-profit and social-change space. Rang De's mission and values were a natural fit for him and he enjoys helping them succeed.
X
Pramod Khambete
Chief Design Advisor
After finishing his PhD in Service Experience Design and Customer Experience from the Indian Institute of Technology Bombay, Mr. Pramod Khambete has worked at all levels. from being a Trainee Engineer to heading a consultancy of his own providing Service and User Experience Design, he has done it all! He is also an Adjunct Professor at IIT Bombay. At Rang De, Mr. Pramod Khambete gives strategic inputs on Service and User Experience Design.
X
Rajeev Shroff
Leadership Development Advisor
One day at a time, brick by brick, anything can be built.

Jon Steinberg
Executive leader with over 25 years of experience in driving business growth for large as well as small companies. Was earlier Vice President & Board member at Avaya India and a Senior Director at Oracle. Currently Managing Director, Ten Innovate India, a Start-up Investment & Advisory group, advising Entrepreneurs in Fine-tuning business strategy, supporting changemakers in building a portfolio of contributions. Certified as a CEO Coach through Coaching Foundation India, India's first institution creating coaching professionals of international standing and certified from N.E.W.S. Coaching and Training, Switzerland. At Rang De, Mr. Rajeev helps in transforming ordinary team players in to outstanding leaders.
X
Kamlesh Shankar
Chief Creative Advisor
His words can create magic. And his passion for Rang De can work wonders. Having worked as senior copy writer in India as well as in United Arab Emirates, Kamlesh works with Rang De as Chief Creative Advisor. He works on areas such as communication and messaging that best bring out the essence and spirit behind Rang De.
X
Dinesh Goel
Advisor Corporate Partnerships
A Chartered Accountant from the Institute of Chartered Accountant of India, Mr. Dinesh Goel comes with rich experience. He has worked with A F Ferguson and Co, Accenture and Infosys at top positions. Apart from having won a lot of awards Mr. Dinesh Goel has published a lot of papers. With a lot of love for Costing, Finance and Accounting Mr. Dinesh Goel will be advising Rang De on strategic matters.
TEAM
X
Smita Satish
Co-founder & Managing Trustee
Never doubt that a small group of thoughtful, committed citizens can change the world. Indeed, it is the only thing that ever has.

Margaret Mead
Smita is the co-founder of Rang De and also serves as the Managing Trustee on the organisation's board. She has a Master's Degree in Social Work and comes with a rich experience of working for non-profits and social initiatives in India as well as the United Kingdom. She believes in the power of civil society to influence and bring about change. She is responsible for fundraising and strengthening Rang De's impact on communities and enhancing changemaker involvement in the organisation. Smita has also completed a Certificate Course for Women Entrepreneurs from the Indian School of Business, Hyderabad.
X
Ramakrishna NK
Co-founder & CEO
My success story will be when the system runs without me.

Dr. Shrinath Kalbag
Ram is the co-founder & Chief Executive Officer of Rang De. He was chosen for the Ashoka Fellowship in 2012 in recognition of Rang De's game-changing efforts to lower the cost of credit. A firm believer in the social business model, he started Rang De in 2008 as a platform to raise contributions for individuals. His conviction that there is a need to lower the cost of microcredit has been instrumental in shaping Rang De's values and beliefs. Prior to starting Rang De, Ram worked as Principal Consultant for Vignette Europe Limited and has consulted for some of the world's best companies.
X
Swati Agarwal
Vice President, Technology
Our greatest weakness lies in giving up. The most certain way to succeed is always to try just one more time.

Thomas A. Edison
Swati has a passion for technology. She has worked for well known organizations such as Capgemini and Cognizant. A mechanical engineer from MNNIT Allahabad, Swati took a break from her corporate career and became a full-time mom. Learning new technologies and being in a challenging environment is something that excites Swati. She enjoys being part of the Rang De team as it allows her to use her passion for a great cause.
X
Ghansyam Kooram
Chief Product Officer, Technology
You are not a drop in the ocean. You are the entire ocean in a drop.

Rumi
Ghansyam sees a great future where technology solves some of the most pressing social problems. As Chief Product Officer, his task is to build a world class fin tech platform that benefits rural entrepreneurs borrow with dignity and social investors invest with pride and trust. Prior to Rang De he worked for over two decades in technology positions at Habba, Sharp and IBM. Ghansyam holds a bachelors degree in Electronics and an MBA in Marketing and Finance.
X
Vishwanath Ramani
Leadership Group Member - New Partnerships
Not everything that can be counted counts and not everything that counts can be counted.

William Bruce Cameron
After working in the corporate world for a decade Vishwanath moved to the social sector. Previously he has worked with organisations like Thomas Cook, Scotiabank and GiveIndia. In his current role at Rang De he leads the new partnerships and relationships. Reading, music, sports and gardening are some of his interests beyond work hours.
X
Priya Shiju Thomas
Chief People Officer
She is an MBA in Human Resource and has been an HR professional with over 15 years of experience in Leadership Development and talent management. For Priya switching from the corporate sector to work for a not-for-profit is the best move she ever made to rejuvenate her career and values- She adds. "After conquering the corporate world, the prospect of a community job can be inspiring – it's the chance to make a positive impact, give something back and feel a warm glow. It's all about giving back and making a difference."
X
Swati Dubey
Senior Manager, Impact
Swati Dubey holds a Master's Degree in Business Administration and brings extensive experience in financial operation. A gold medallist in MBA- finance, she has extensive experience in the field of micro-finance. In her current role as Manager-Impact, Swati is responsible for monitoring and reporting Rang De's impact on the community.
X
Pramod Arsid
Front End Developer, Technology
Your best teacher is your last mistake.

Ralph Nader
Pramod completed his Master's degree in Social Work from Gulbarga University and went on to complete the Deshpande Fellowship. At Rang De, he found a passion for technology and took it upon himself to learn programming and UI development. Having initially travelled the length and breadth of India as a Impact team member, Pramod has seen the organisation grow over the past three years. He may now work at a desk in the office but Pramod understands the reality of the ground and wants to do his part in a modern setting. Pramod likes to watch movies, listen to new songs and is an avid cricket enthusiast.
X
Srividya Ravi
Associate Manager, Impact
Look at the sky. We are not alone. The whole universe is friendly to us and conspires only to give the best to those who dream and work.

A.P.J. Abdul Kalam
Srividya, a people loving B.Com graduate from Chennai, works as an Associate Manager Impact, Impact. She is one of those few who are responsible for making the work life of field partners a lot easier with her exceptional social skills and her zeal to create an impact. As an avid music lover who also loves to cook, she spends most of her spare time with her i-pod or in the kitchen.
X
Sonali Chakraborty
Operations Manager, Impact
I think sharp and dream big

Conor McGregor
Sonali is a Master's degree holder in Marketing from Manipal University in Bangalore. Having worked with FunDreamz as a fundraiser for Plan India & Care India, she began her career fulfilling the education requirements of girl students and HIV-infected children. Prior to Rang De, she was working as a scholarship programme co-ordinator with Foundation For Excellence but she joined Rang De as her current role allows her to impact communities on a wider scale. Born in Meghalaya, Sonali likes to watch movies, TV shows, MMA tournaments, travel to new places and comes from a caring family that has adopted three orphans through SOSVillages (Kolkata).
X
Vipindas Kaipatta
Senior Manager, Finance
Every adversity, every failure, every heartache carries with it the seed of an equal or greater benefit.

Napoleon Hill
Vipin started his career in oil field industry in the Middle East and has over 8 years of experience. He is a post graduate in finance and worked with companies like Oil Tools India Services Pvt Ltd and Marechal Electric. Vipin's role in Rang De as a Senior Finance Manager lets him put his time and expertise for social good. He left his comfortable corporate job to be able to give back to the society and do accounting for good. Apart from being a pro with numbers, Vipin is also a travel bug.
X
Chandra Baid
Consultant - Finance
The best way to find yourself is to lose yourself in the service of others.

Mahatma Gandhi
Chandra is a professional Chartered Accountant. After working for well-known organisations such as Deloitte and Zacks Research, Chandra took a break from her corporate career and became a full-time mom. She feels privileged to be part of team Rang De and her current role as a financial consultant gives her great job satisfaction as she is able to contribute to a noble cause. She likes travelling, watching movies and listening to songs.
X
Ananya Ghosh
Senior Manager, Impact
"Poverty is not just a lack of money; it is not having the capability to realize one's full potential as a human being."

Amartya Sen
Ananya strongly believes in the potential of human beings to stand up no matter how hard s/ he has been hit by adversity. And this is why no matter how slow the process of development is she knows that consistent efforts can one day wipe out poverty. She has a Masters in Social Work from Delhi University. Having previously worked in the interior tribal areas on rural development for almost five years and being an avid traveller she is happy to be at Rang De where she is strongly connected to the field and at the same time gets to travel throughout the country.
X
Sudeshna Ray
Operations Manager, Swabhimaan
"Art, freedom, and creativity will change society faster than politics"

Victor Pinchuk
Sudeshna is a Master's degree holder in Development Policy from KDI School of Public Policy and Management, South Korea. She has a Master's degree in International Relations from the University of Delhi. Sudeshna is responsible for managing Swabhimaan operations for Karnataka and Chhattisgarh. She loves interacting with the community and enjoys her role when it comes to field visits and Community Interaction.
X
Tarun Vijay
Product Manager, Rang De
"Arise! Awake! and stop not until the goal is reached"

Swami Vivekananda
Tarun Vijay is a Product Manager and has over 6.5 years of experience in handling products. A true believer in the importance of humanizing digital technologies. He's motivated and full of energy to get things done. He has worked for the products like Spirent, Ericsson test infra tools,Yatragenie,Medkumo in Terralogic. In his current role at Rang De he is responsible for guiding the product's growth and leading the cross-functional team that is responsible for improving it. He is passionate about promoting Dance as a stress-buster,Arts and culture,Exploring new places and their cultures.
X
Praveen
Video Editor
I didn't have a normal academic career. I never studied cinema. I learned from life.

Alejandro Gonzalez Inarritu
Praveen is a professional videographer with seven years of experience working in the Indian film industry. Along with feature films, he has also assisted in the production of short movies and video advertisements. At Rang De, Praveen helps document on film the untold stories of the borrowers and communities the organization works with. Praveen also has a keen interest in independent documentary films and is an avid long-distance motorcycle biker.
X
Niraj Patel
SQL Developer, Technology
"A Journey Of A Thousand Miles Begins With A Single Step"

Lao-Tzu
Niraj is a Master's degree (M.C.A) holder in Computer Science from Bangalore University. Having worked earlier with well-known USA based Immigration Product Based Company called INSZoom Technology, Bangalore. He feels privileged to be part of team Rang De as SQL Developer, where he is doing something good for noble cause using his Skills. He feels Rang De has a very unique social model to provide microcredit loans at very lower cost to rural entrepreneur to achieve their dreams. As individual he likes to watch movies, listen to new songs and playing cricket.
X
Sandeep
Sr. Software Test Engineer, Technology
"Desire is the starting point of all achievement, not a hope, not a wish, but a keen pulsating desire which transcends everything"

Napoleon Hill
Sandeep is a B. Tech Graduate from JNTU University, Hyderabad. As a software engineer, he is passionate about ensuring that all products meet certain thresholds of acceptability. At Rang De, he found an opportunity to put his software skills to use for a social cause. Outside of work, Sandeep likes to take long road trips on his motorbike, and enjoys reading books and meditating.
X
Amoghavarsha P
Management Group Member - Finance
"Choose a job you love & you will never have to work a day in your life"

Confucius
Started off as an engineer at Infosys, I went on to study Masters in Finance, giving myself a greater range to explore my possibilities to the fullest. My experience of the credit world stretches across banking platforms from being a typical commercial banker to working in a social fintech that facilitates credit. This enriching stint has helped me gain insights not just with the business part of the industry but with it's potential to reach out, innovate & leverage technology for a greater & nobler purpose of alleviating the undeserved.
X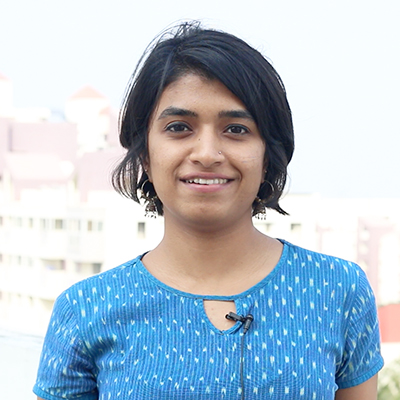 Lydia Thomas
Impact Manager
Lydia has a Masters degree in Social Work from the Tata Institute of Social Sciences, Mumbai. Prior to Rang De, she worked at Prerana, helping child victims of sexual abuse through rehabilitation and justice, and with Small Change, an awareness and fundraising portal for nonprofits. At Rang De, she is a part of the impact assessment and research functions. Lydia's journey into the development sector may have started out with a bleeding heart, but it has been a very personal one that has constantly challenged her own convictions as well. When she takes a break from thinking about how so much about the world seems unmanageable, she'll happily settle for someplace quiet and far from the city with a good book and plenty of teas to choose from.
X
Preethi
Manager - Empathy
"A lesson for all of us is that for every loss, there is victory, for every sadness, there is joy, and when you think you've lost everything, there is hope"

Geraldine Solon
Preethi is an avid foodie who loves to spend time with her friends. She completed her Masters in Social Work from Madras School of Social Work and prior to joining Rang De, she was working with Greenpeace for over a year. She is passionate about women and children's rights.  In her spare time, she loves listening to music and watching Harry Potter & Marvel movies reruns.

Preethi chose Rang De because of the work we do at the grassroots and the fact that it is a small organization of people who are great to work with. What makes her look forward to work every day is the team she gets to work with, a fun bunch that is always supporting each other on both good days and bad.
X
Chandni Sawlani
Community Manager
The cosmos is within us. We are made of star-stuff. We are a way for the universe to know itself.

Carl Sagan
Chandni believes in the inherent goodness of all people. She's on a mission to connect people to their own good hearts, to others and to the world, hoping through this to inspire a more compassionate world. She has a Bachelor in Computer Applications from Christ University Bangalore and enjoys conceptualising technology that can inspire human connection. In her time off, she enjoys practising yoga and meditation, reading and staring at the moon.
X
Sindhura Bogadi
UX designer
Soon after completing her B.E. in Information Science and Engineering, Sindhura worked as a Test Engineer. Discovering the gap between the users and the products in this duration, she set her foot in the field of usability and experience design and went on to complete her Masters in Interaction Design from Harbour Space University. Sindhura is part of the product team and wants to enhance the user experiences for the Rang De communities by implementing UX and behavioural design. She enjoys cooking and meeting new people while travelling.